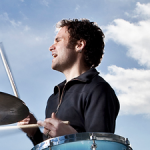 Rocco started playing drums when he was nine years old. At the age of ten together with the
keyboard player Francesco Salis he started his first blues duet which enabled them to start
performing in public playing both original compositions and covers of the great classics
ranging from the Chicago blues, rock and roll by Chuck Berry, boogie woogie by Jerry Lee
Lewis and soul by Ray Charles,
In 1992 while playing at the Blues to Bop festival in Lugano Switzerland they met up
with Sandro "Bat" Battison and very soon after that the band "Bat Battiston & The kids"
was formed. This was an important opportunity for Rocco and lead to many performances
in prestigious clubs and festivals both in Switzerland and abroad such as Piazza Blues
Bellinzona, Blues to Bop Lugano, Blues'n'Jazz Rapperswill and many, many more.
Rocco spent ten years from 1990 to 2000 studying with affirmed drummers such as Ivano
Torre in Bellinzona (1990-1996) and Guido Parini at the school of modern music SmuM
(Scuola di musica moderna) in Lugano.
In 2001 Rocco enrolled at the school Ejma (Ecole de Jazz et de Musique Actuelle) which has
since become the Jazz and Modern music section of the conservatory of Lausanne.
At about the same time Rocco was invited by guitarist Joe Colombo to join his group. This
experience opened up new opportunities which included playing with musicians such as Eric
St. Michael (ex. singer with China) and the great blues/soul musician Terry Evans.
This synergy also lead on to the production of two tracks with Comet Records which would
contribute to a compilation tribute to Jimmi Hendrix CD Volume 1 and 2, alongside world
renowned musicians like Robben Ford, Steve Lukather, Larry Corryell, Scott Finch, Hiram
Bullock, …
During his studies in Lausanne Rocco also studied with, Francois Bauer, Marcel Papaux, Everett Sangoma and exceptionally
Daniel Humair, who recommended that Rocco participate at the Friedel Wald competition in
Uster (ZH).
In 2007 Rocco graduated at the H.E.M. conservatory of Lausanne as a performing musician.
Today Rocco is active in various projects in Switzerland and Italy together with a range of
musicians both performing live and in recording studios and has also established himself as
an important point of reference throughout Ticino Switzerland for private tuition in his private
studios and at the SMUM (scuola di musica moderna) in Lugano..